Adeona's Early Childhood Development Programs in QLD
Creating a stable environment where children feel safe and supported to learn.
We believe in the need to have a deep understanding of the holistic child in order to create authentic and effective programs and practices. Through our responsive, respectful and reciprocal relationships we are able to create an environment where childreen feel safe, secure and supported to learn. By allowing children to be agents in their own learning and have control over their environments, they develop a life-long love of learning.
---
Infant and toddlers
Our infant and toddler programs are heavily influenced by Magda Gerber's Educaring® Approach. An Educaring® Approach, also commonly known as RIE® (Resources for Infant Educarers), is a way of being with infants and toddlers that nurtures their whole being and appreciates the processes that children progress through to become their authentic selves. Respect for the child is paramount to this approach.
To support this way of being with children, Adeona utilises a primary care model whereby children are cared for, and build relationships with, a consistent carer. This carer is supported by a secondary carer, who builds an accompanying relationship should the primary carer be unavailable.
Care moments
With infants and toddlers, care forms the foundation of the curriculum. Positive, responsive relationships, with a primary carer, during these early stages of life, is key to a child's sense of security and in turn their development. As such Adeona places high value on care moments and utilises these times to build and support secure attachments and relationships. Care moments involve times where a child's physical needs are met such as, nappy changing, feeding and resting. Adeona approaches these moments as an opportunity to engage in one on one time where nurturance of the child's whole self, in order to support secure relationships. Children are active participants during these care moments and the relationship comes ahead of the task. Primary carer's are attentive and emotionally present making these times an unhurried and deliberate shared experience between child and carer.
Freedom of movement
Adeona firmly believes in freedom of movement for children. As part of our Educaring® Inspired Approach, we value children as competent and self directed learners who grow and develop in their own time. We believe in children's gross motor development naturally unfolding and so refrain from placing children in restrictive equipment, such as high chairs, bouncers and rockers. Instead we provide an environment that is safe and stimulating, focusing on the processes involved in gross motor development rather than the end result. Adeona educators allow children freedom throughout the day including during care moments and uninterrupted play. Children are not placed into positions in which they cannot get into themselves, but rather are emotionally supported through physical challenges, with intervention if required. This allows primary carers to read each individual child's cue's and respond appropriately.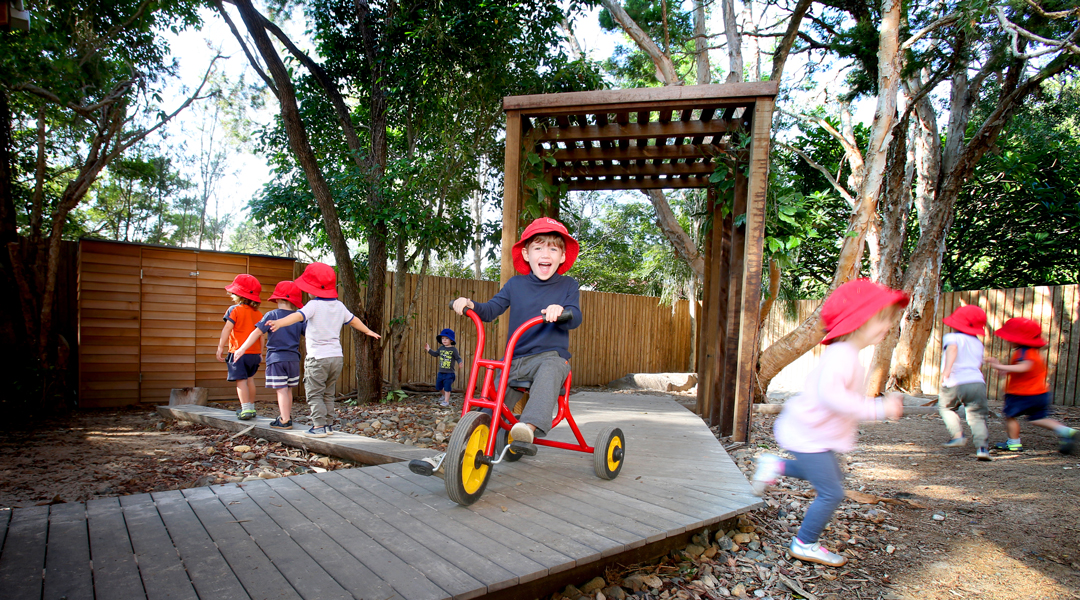 Pre-kindergarten
This special age of not quite a toddler, not quite a preschooler is one during which great leaps in language and social development occurs. It is during this age that children start to find their place in the world and learn how to navigate the complex social and cultural elements of life. During this phase of development, the educators at Adeona focus on providing a secure base,  for children to learn to negotiate social situations.
Through the continuation of primary caregiving children are able to explore their budding autonomy in a protected environment where they can experiment and safely test boundaries. Such moments are met with acceptance, kindness and consistency. All educators possess an understanding of schematic play and cater the environment to allow children to fulfil their urges and master skills.
Our Pre-Kindergarten curriculum has a strong focus on building emotional capacity as children learn to play collaboratively. Here, we focus on creating environments that allow children to engage deeply in the flow of play, providing many opportunities for imaginative and exploratory learning. This is extremely important in building cognitive capacity and creativity, both of which are identified as essential skills for future prosperity.
During this stage of development our educators provide many opportunities for children to continue to develop their fine and gross motor skills through open ended activities and resources.
Children are encouraged to evolve their self-help skills to provide them with the agency to be active participants in their lives. This also builds resilience and a sense of identity. Developing this interdependence with others is a life long skill.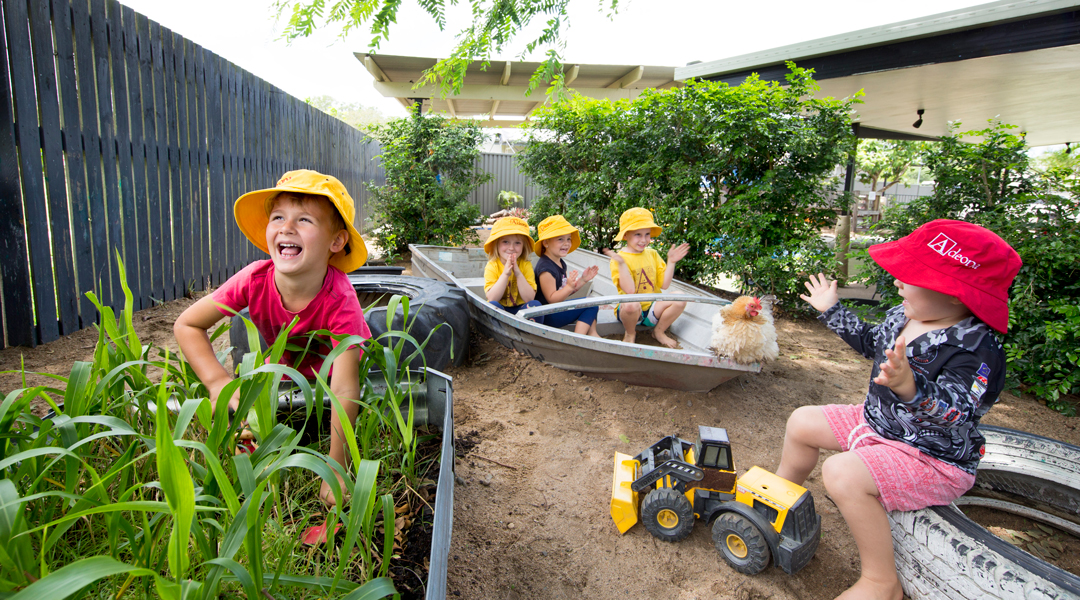 Kindergarten 
All Adeona services operate a Queensland Government Approved Kindergarten program run by Bachelor qualified Early Childhood Teachers. The program requires children to attend for a minimum of 2 days a week and is an important step before commencing school.
Adeona believes children have the right to learn in a way that is natural and meaningful to them. As such we provide a environment where children can explore and grow, with a focus on building the social skills, emotional intelligence and learning dispositions that will help a child succeed not just at school but in life.
These skills include the ability to make friends, enter into play, develop a love of learning and curiosity, resilience, self confidence, persistence, becoming their authentic selves, ability to regulate emotions, a balance of interdependence and independence with peers and teachers as well as the ability to do things such as toilet independently, open and close food containers, wash hands, remove and put on clothing and shoes.
Children attending Kindergarten at Adeona will have access to a teacher for 7.5 hours a day providing plenty of opportunities for one on one time as well as learning in small and large groups. The teacher embeds early literacy, numeracy, arts and sciences in the curriculum through play, exploration and enquiry.
At Adeona, Kindergarten is a time of great agency and citizenship. Our Kindergarten programs incorporate many of the ideals of a democratic society, where every member has a voice within the community. Our program provides a platform for children to express their knowledge and interests, and our teachers roles are to listen deeply, observing the children to ensure their interests and learning needs are met. In Kindergarten we want our children to connect to each other, the community and learning. In doing this we foster a love of learning that will span a life-time.
As Adeona is a long day care service we offer longer hours than traditional kindergartens allowing families the flexibility for work and other commitments. We provide the program all year round, meaning no holiday periods and more interaction and convenience for working families.